With this month's update comes news of some great new features in ProCalV5 Calibration Software! The examples shown here were developed in response to requests from current system users. The Prime Technologies development team has been working hard to keep up with ever demanding customer needs. We are committed to be the leading innovator in calibration management software.
Did You Know You Can…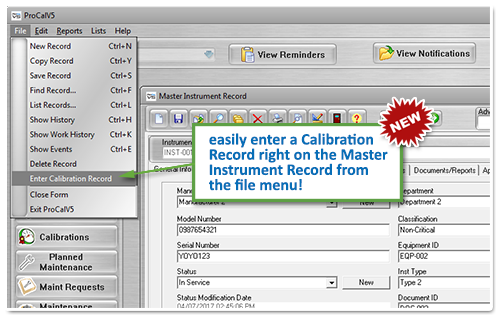 5 More Enhancements You Need To Know About The Newest ProCalV5 Calibration Software
1. Enhanced Filter For Outsourcing to Service Companies
The new enhanced filtering enables you to not only apply, but also authorize for use, your specific service agents' test standards and make them unique to individual companies (accounts) within the calibration system. 
2. Exempt Fields from Change Control
This new feature allows administrators to configure certain pre-established fields to allow user modification without initiating the entire change control function. 
 
3. Improved Data Load
The new data load utility allows you to create in Excel all record types including test instruments for auto upload of data for master record creation. It also supports creation of records with multiple test point groups and allows a test run to check for errors. 
 
4. Multi-language
ProCalV5 can now support six languages. User defaults can be set at system, company (account) or individual user level. Changing to another language is via a simple drop-down selection. 
 
5. Copy A Company
Copy Company (account) information when creating another company. This includes the list values, user defined variables, approval policies, documents and more.
Get Started on Updating Your Version of ProCalV5 Calibration Software
To request a call from an account representative to better understand the benefits and options that ProCalV5 offers, or to update your software to the latest version click here to contact us. This update comes free for clients with active support.