The purpose of Prime Technologies, Inc.'s recent trip to France, Sweden, Belgium, Austria, and Germany was to establish a stronger brand presence for ProCalV5 in the European market and to cement relations with our partners through vendor training, face-to-face client meetings and best-practices for sales and marketing coordination.
Our Stops
France
Our first stop was Pontarlier, France, where we conducted training workshops at a client facility. The focus was on voltage calibrations followed by testing the velocity of a simulated projectile.
Following the Pontarlier visit, we traveled to Paris for a full day of high-level training at the offices of Prime Tech's Partner Transtek on ProCal software. Prime Technologies left Paris with several suggestions for future enhancements and the expectation of a positive continuing relationship with our Partners at Transtek.
Our next stop was in Cologne, France, where we conducted in-depth discussions with Prime Technologies reseller Primation, beginning with an overview of the ProCal application and its administrative features. We then looked at calibration and maintenance workflows, target industries, and deployment strategies. We wrapped up the visit with a training workshop on ProCalV5.
Germany
Munich, Germany, was our next destination. We opened our visit with a local chemical company by sharing our company histories and current business processes. We suggested ways the company could make use of ProCalV5's basic and advanced features. Sample records were created based on information we obtained prior to our visit.
The remainder of the visit was spent in a technical training meeting for the general manager and several salesmen and technicians at Primation, a German ProCal reseller. ProCalV5 received an enthusiastic response from our German hosts.
Austria
In Austria, we met with employees of our Partner Transtek to discuss how their very large production operation could benefit by implementing ProCalV5. The engineering team was pleased to hear their existing databases could be easily migrated into a ProCal database.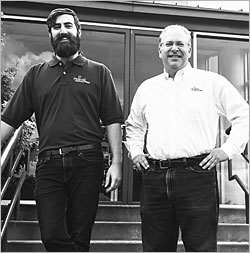 Sweden
Prime Technologies met with Intertechna Ab at a nuclear power plant in Väröbacka, Sweden. The purpose of our meeting was to discuss a current initiative by Sweden's two nuclear power plants to consolidate their data and systems under SAP and ProCalV5. Personnel from both plants were present to discuss data migration, Mobile Workstation, eView and the Fluke field calibrator utility within ProCalV5. They were intensely interested in ProCal's ability to integrate with the SAP platform.
There was a consensus among the group that ProCal's ability to be enhanced while still maintaining its off-the-shelf status gives ProCal a considerable advantage over other software on the market.
Belgium
Our visit to Belgium began with presentations by Tempco and Prime Technologies, followed by a technical training session introducing Tempco engineers to ProCalV5. Next, we produced instrument and calibration records based on scenarios provided by the company engineers. The second day was spent on target industries, sales documentation, and creating a trial database. We concluded the day training a Tempco technician to create an instrument, assign calibration specs, download a tag to a Fluke calibrator, perform a real calibration of the instrument, and generate a report.
Response from our Reseller
"Your meeting was important for us, especially the meeting with a potential client. It is a great benefit for us to meet with customers as one unit when discussing projects of this size.
The meeting and support from Prime Technologies put Intertechna and the ProCalV5 solution in a very strong position."
Lars Djuvfeldt – Intertechna Ab
Response from Prime Technologies
"The trip presented an outstanding opportunity to spend time in the western European markets while solidifying relationships with several distributors."
Michael Price – Implementation Coordinator
"I think our European/Scandinavian outreach in July and August of this year was an enormous success
on a few levels:
First, it allowed us to forge close account relationships with one of our largest clients (food manufacturing) as well as a very significant prospect (nuclear power plan).
Second, it allowed us to establish a better technical presence for ProCalV5 in Europe through training with four separate resellers.
Third, through the assistance of our partners, it allowed us to represent face-to-face the benefit of ProCal and Prime Technologies in four separate languages (French, German, Swedish and English)."
Ken Wachs – Director of Business Development
Trip Summary
Prime Technologies' meetings in France involved training workshops on voltage calibrations, testing, maintenance workflows and deployment strategies.
In Germany we received an enthusiastic response to ProCalV5 by the general manager, salesmen, and technicians of Primation.
In Austria, Transtek engineers focused on ProCalV5's database migration feature. Intertechna engineers positively embraced the combination of SAP and ProCalV5 to meet all the data and system requirements of Sweden's two nuclear power plants.
Engineers at Tempco were introduced to ProCalV5 through simulations based on scenarios provided by the company.
Altogether, our European visit successfully introduced ProCalV5 to companies in five countries engaged in three diverse industries speaking four different languages.
If you would like to learn more about our software or to schedule a demonstration of ProCalV5 or any of our other products, please visit our website or call us at 484-266-0599.
###
Prime Technologies, based in Exton, PA, is a leader in calibration management software and services for the calibration management industry. The company's powerful software, ProCalV5, was first released in 1996 and is now considered the industry standard for advanced calibration functionality, quality, and paperless capability. This powerful solution is quickly being adopted by organizations worldwide.
ProCal Direct calibration software is a cloud-based calibration and maintenance management program using a monthly subscription format. This cloud-based answer is available for a single facility or large, multi-site organizations. ProCal Direct ensures total data security by hosting on a SOC 2 Type II and SOC 3 audited environment.